About us
St Andrews Limes is an iconic brand, a family business that has operated out of its' commercial kitchen in Havelock North, within Hawkes Bay, the fruit bowl of New Zealand for the last eighteen years.  Matt and Tracy Day have taken their romance with this sassy, zesty fruit to a whole new level.  Having recently moved home after residing in the Middle East for the last 8 years they are  delighted to be working with a quality product, sourced locally and from surrounding regions.  You can find our stall at the Hawkes Bay Farmers Market every Sunday or stop by our store in St Andrews Road to purchase our products and give us valuable feedback.
Meet my new best friend. I love hot Indian lime pickles and chutneys but they can be very polarising. I would normally eat them only with a good curry. But this Lime pickle from St Andrews Limes is a bit of a hybrid, sweet, warm/hot and aromatic. This is one of the best pickles I've tasted. I just had it with some aged cheddar on crackers. While you're in lockdown and you want to treat yourself? Give this a go. I picked it up from work on my weekly shop, so I know Orewa New World stock it. You might be stuck in the house... but your tastebuds don't have to be.
Kevin Martin - Baker/Pastry Chef, Albany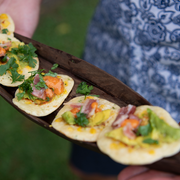 Thank you for your awesome offer, your dressing is simply delicious, Ive tried others when I've run out and it simply doesn't cut the mustard. I've bought 4 litres and just because it's rude not to, got some of the lemon curd which I guarantee won't last long! Thanks for all the good work you're doing.
Blair
We opened the lime mustard as well as saffron dressings tonight and they are amazing! I made a roasted brussel sprout salad with roasted pumpkin seed, maple streaky bacon strips and a bit of Parmesan. Totally delicious with either dressings! We will definitely be buying from you again. Fantastic flavours that sing in your mouth.
Cilla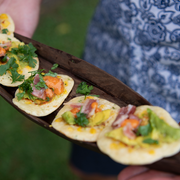 You have got to try this!! Chilli Undressed has become my favourite dipping sauce, resembles no other and tastes home-made. Uplifting anything savoury, it will get your tastebuds chirping in delight. Sharp, punchy, zesty and crazy addictive. Do try it with crumbed fish or seafood. Do it.
Amandine Pollard
Just had the sour margarita mix and it exceeded my expectations ... nothing short of amazing! - definitely be ordering again :)
Nick
Meet our team
Our fabulous Food Production team is led by the master and Food Production Manager, John Kemble.  He is often assisted by Matt and our Retail Manager, Elizabeth Read, especially when preserving lemons - one of our most popular products.
You will find Liz every Sunday at the Hawkes Bay Farmers Market where she is in her element.  A lover of all fine foods in life, Liz knows what makes a good product and how to make the most of it!  Her favourite St Andrews Limes product is Chilli Undressed and she slathers it on her bacon and egg butties yum!  If you're down at the Farmers Market, talk to Liz about what to pair them with to make the most of our St Andrews Limes products.  If you miss her at the Farmers market on Sunday, stop in to our retail store from Monday to Thursday between 8.30 and 4.00 p.m. where she will be serving and packing our orders in the retail store on site.  Liz is a valuable addition to our team!
Our Food Production Manager
John is naturally at home in the kitchen, as he is with all things food and wine related.  John is in charge of the quality of St Andrews Limes' products.  He is a devoted epicurean who has been involved with winemaking most of his life - flavour means everything to him. When not in the kitchen John can be found looking for a river to fish in, trying to find a trail for his bike or with his head down on the yoga mat in his favourite pose.
Lime and Mustard Seed Dressing is his favourite St Andrews Limes product as it is versatile enough to be used to conveniently dress any green salad. 
St Andrews Limes Retail shop
164 St Andrews Rd,
Havelock North
Hawkes Bay
Ph (06) 877-4683
limes@limes.co.nz
www.limes.co.nz
Monday - Thursday, 8.30 am to 4 pm
Friday & Saturday, Closed
Sunday, at Hawkes Bay Farmers Market 8.30 am to 12.30 pm
www.hawkesbayfarmersmarket.co.nz