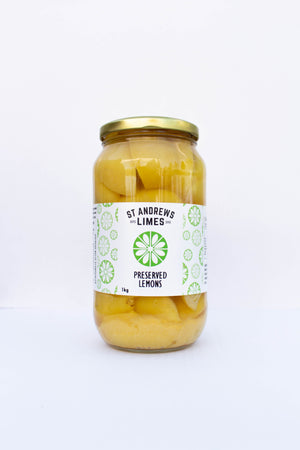 These lemons are preserved in salt.  Discard the flesh and slice finely to use in potato, green and/ or bean salads. Serve also in rice, cous-cous and add to any lamb dish.
Using Preserved Lemons …
They keep for quite a while in the fridge because, after all, they are preserved!  Keep refrigerated and if in the brine, these lemons will keep for up to a year.  It means you don't need to rush to use them up.  Any time you'd normally add lemon zest or a squeeze of juice to a recipe, use some preserved lemon and be confident with the result.

You can eat the whole lemon, rind and all — though we'd recommend removing the seeds first.  Rinse briefly under cool water to remove excess salt and chop before adding to your dish.  Under the influence of salt, the intense bitterness of the rind and pith mellow out and develop a sunny lemony character. Try a piece of the preserved lemon on its own and you'll understand what we mean!
Here are five ideas to use them:
Grain Salads: tender morsels of preserved lemon go well in a couscous salad or barley pilaf to make you hum and zing.

Salad Dressings and Sauces: chopped pieces of preserved lemon make a fantastic addition to any salad, and are great to whizz through a salad dressing. Also try blending preserved lemons into pesto or into a sauce for grilled fish or meats. Preserved lemons and fish are delicious together!
Salsas and Dips: want something new to spice up your salsas and dips this summer? Just chop them up into little pieces and add them to your normal recipes. Guacamole, hummus, spicy salsas — simply scrumptious.
Pasta Dishes: a simple pasta dish will taste good with good olive oil, garlic, and slices of preserved lemons to tantalises your taste buds. Top seared or bbq chicken breast or fish for a full meal.
Tagines and Other Stews: chicken tagine with preserved lemons is  a well known dish for these lemons, but there's a great big world of tagines out there. We love preserved lemon in chickpea stews and anything with lamb. Even if your tagine or stew doesn't call for preserved lemons specifically, experiment with a little impromptu recipe tweaking!
Ingredients;
Yen Ben Lemons, salt, Lemon juice