Lime Juice (20kg) - New Zealand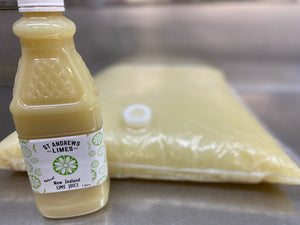 Fresh New Zealand Lime juice squeezed from Tahitian and Bearss Limes and pasteurised for longer shelf life.  100% natural juice - no additives and no preservatives.

We supply many bars, restaurants and wholesale food and Beverage manufacturers all over New Zealand our St Andrews Limes juice in bulk, contact us for more information or for bulk discounts.
Please note- a mailist, new customer discount if 10% does not apply to Wholesale juice orders.