St Andrews Limes BBQ Gift Hamper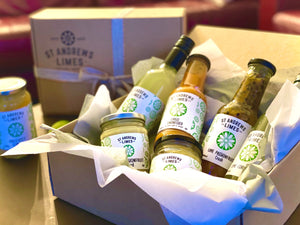 Choose this BBQ artisan hamper as a sassy gift for a friend or loved one. Perfect for a sunny afternoon / evening by the BBQ with friends.  Contains: Spicy Glaze 300ml, Lime Mustard Seed Dressing 300ml, Lime Passion fruit Crush 300ml, Lemon Curd 250g, Lime Date Chutney 300g.  Leave us a note when you checkout to send anywhere in New Zealand from you to them. 
Let us charm your pantry, or someone who deserves a treat, with our lime products.  
Shipping to the North Island is typically overnight if residential and 2-3 days to the South Island.  Rural deliveries take longer.