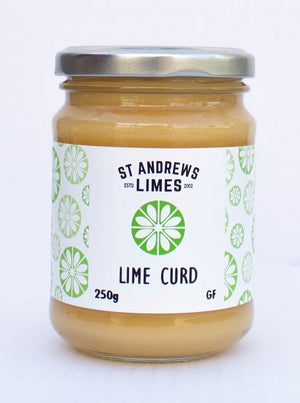 A condiment with an intense Lime flavour. Dollop through cream for a quick addition to any dessert or mix through natural yoghurt at breakfast.  Serve as a delicious dip for fruit and/or on toast.
Lime Curd - Tips for Use
Mix SAL Lime Curd & SAL Lime & Passionfruit Crush together & serve over baked or grilled peaches, with a dollop of vanilla ice-cream on the side.
Make a cream of ricotta cheese & SAL Lime Curd & dollop over fresh or baked fruit.
Blend fresh raspberries with SAL Lime Curd & serve with amaretti biscuits on the side.
Put teaspoons of SAL Lime Curd into ready prepared sweet pastry cases and sift over with icing sugar or top with whipped cream.  Place pastry cases on a plate - an ideal easy dessert mouthful or use it as 'take a plate'.
Poach pears for 20 minutes, remove from liquid, drain and place in the middle of a flat dessert plate. Prior to this freeze Lime Curd for 18-20 hours. (It won't go solid but will make a perfect gelato).  Scoop out small balls & place beside pears on a serving plate – serve with yoghurt or cream.
Ingredients;
NZ Lime juice, butter, sugar, eggs